Dental Bridge

Great Falls, MT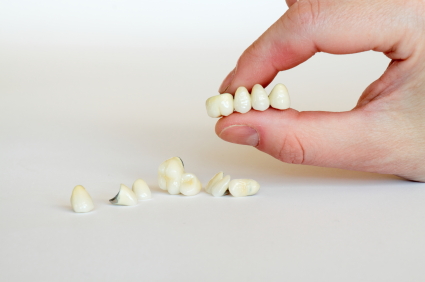 A
dental bridge
can be an excellent way to replace missing teeth, restore function, and improve your look. A bridge combines two
dental crowns
with a false tooth between. This design bridges the gap and fills in the missing tooth. This will make chewing foods easier, and improve your smile. With a variety of types of bridges, in various materials and fits,
Dr. David Currie
can find the right type for you.
Dental Bridge for Oral Health
Besides function and aesthetics, there are health reasons to replace a missing tooth.
When a patient has a missing tooth, there are some problems that can happen, some immediate and some with time.

The most immediate reaction following the loss of a tooth is the loss of bone. Our teeth exercise our jawbone, keeping them robust. When a tooth is no longer present, the bone responds with atrophy or sorption, and the results are fast. A patient may not see a visible difference with one missing tooth, but lose two, three, or more, and the changes in your facial structure will become apparent. We see the results on those around us all the time, we have come to think of it as the facial shape of older people, in actuality, it is a loss of teeth, which is common in older people.

With time, patients can experience the shifting and movement of neighboring teeth. Our teeth keep our other teeth in position. When space is available, teeth can shift. This is different from an orthodontist removing teeth; they do that to move teeth in a controlled way. Teeth that shift because space is available, move in an uncontrolled way, and the effects can be severe.

As the bone alters, the tissue alters, and the teeth shift, your bite becomes adjusted, and often in a harmful way. A bad bite, known as malocclusion, can cause jaw problems, chewing problems, and greatly change your look. Jaw problems are known as TMJ dysfunction. This means that the jaw bone is out of alignment and the patient can experience some effects because of it. This can include jaw soreness or discomfort, the inability to open or close your jaw correctly, and some patients report facial pain including in their ear, their brow and migraines.
Different Types of Dental Bridges
The most common dental bridge is known as a traditional bridge. This system uses two dental crowns that are placed on two healthy teeth with a false tooth between. There are other styles available including a Cantilever Bridge which is supported by only one tooth or implant, a Maryland Bridge which is supported by a metal framework that is attached to the back of teeth, and an Implant-Retained Bridge, which uses
dental implants
to serve as posts to attach the bridge too.
Besides styles, bridges come in a variety of materials including porcelain, porcelain over metal, ceramic and acrylic. Each has positive value, and we can discuss which would be best for you based on the bridges location and any sensitivities.